DESCRIPTION:
Resinate UltraCast Resin is a deep pour casting resin that can be poured up to 2 inches thick at a time for smaller pours such as jewellery, coasters, etc. For larger pours on wood or tables, see disclaimer below **

** If you are doing a pour larger than say 24 x 13 x 2 inches (2″ depth) or 600 cubic inches, we highly recommend doing 1 inch depth pours at a time until you reach your desired depth. Unless you are very experienced with cooling the resin, this is what we would recommend for the best results.

Crystal clear finish even when poured thick
Use with silicone molds to create jewelry, coasters, dice, pen blanks, etc!
Use with wood to make river tables
Can be top coated with either our Epoxy Resin or Professional Resin, food-safe oils and waxes
Can be turned on a lathe once fully cured
Please note, as this is a deep pour resin, the viscosity is thinner than our other resins to allow for bubbles to escape easier during thicker pours. Since the resin mixture is thinner than usual, added colors may mix together instead of staying separated.
FINISH:
This kit comes CLEAR but can be mixed with other pigments such as Mica Powders, Acrylics and liquid dyes
Once fully cured for a full 48 hours will dry hard and rigid. (Hardness 81 on Shore D)
Glossy Finish
Dries in 48 hours @ 20 degrees Celsius (dry time may vary depending on thickness of pour and amount of product used)
2 – 3 Minute mixing time
If doing large deep pours, such as for a river table, we recommend attempting to cool the resin during curing (such as with a fan or AC). This will minimize shrinkage as well as ripples in the surface of the final coat. Any ripples or uneven finish can be expected on large pours and can be sanded out.
SAFE:
Zero VOC formulation
Low Odor
Food safe once cured
COVERAGE:
1.42 L (48 Oz) of our UltraCast Resin will cover approximately 85 square inches (0.59 square feet) at 1 inch thickness.
Technical Data Sheet: UltraCast Resin Data Sheet
Safety Data Sheets:
Questions?
Visit our FAQ page or email us at info@resinate.ca, we will do our best to get back to you within 24 hours!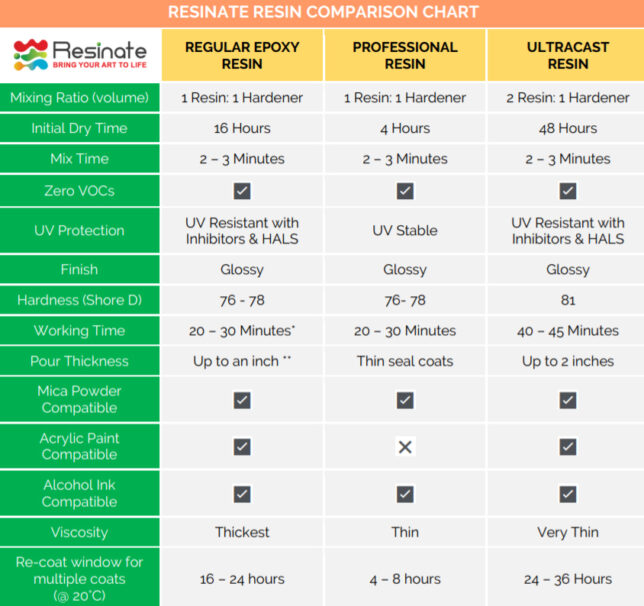 What customers say
Reviews