PREMIUM QUALITY CLEAR EPOXY RESIN
Regular Epoxy Resin used for:
Table Tops
Counter Tops
Beach scenes
Tumblers
Coating Acrylic Art
Coating for Wood, Cloth Canvases, Metal and more
Pours under an inch thick for Jewellery, Coasters, Key Chains etc.
FINISH:
This kit comes crystal CLEAR
Water Repellent, Glossy Finish protects against scratching or yellowing
Dries in 16 hours @ 20 degrees Celsius
This resin is mainly designed for thinner pours, however it does work for thicker pours up to an inch at a time. Be advised that the thicker you pour, the more cloudy it will look once cured. We recommend adding color to your pour if you plan to pour it thick for casting purposes.
MIXING:
1 to 1 ratio Resin & Hardener by volume
2 Minute mixing time
Mix well with our Mica powders as well as Glow powders.
Mix beautifully with other liquid pigments such as acrylics & alcohol inks
SAFE:
Zero VOC formulation
Low Odor
Food Safe once cured
COVERAGE: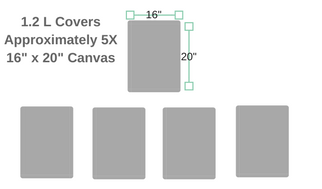 WHAT'S INCLUDED:
Each kit contains bottles of Resin and Hardener
Instruction manual
More Info in our Data Sheet: Epoxy Resin Data Sheet
SAFETY DATA SHEETS:
SHIPPING:
3-5 business days for shipping
QUESTIONS?
Visit our FAQ page or email us at info@resinate.ca, we will do our best to get back to you within 24 hours!